Warranty: The invicta timepiece purchased from mediatwinkle.com comes with a one year limited warranty from Invicta with the option to extend the warranty to five years. The Invicta Reserve line comes with a five year warranty from Invicta. Please register on Invicta's website or complete the enclosed application form that comes with your watch for the extended warranty and mail it to Invicta with a copy of your invoice. Please note that either of these steps should be completed within 30 days of the invoice date, not 30 days from when the watch is received.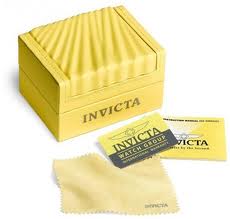 What does the Warranty Cover ?

The Invicta warranty covers repairs due to failure or breakdown of the movement and all its components, as well as the crown, dial, markers, hands and water resistant pressure.It does not cover scratches to the crystal, case, metal band, leather, microfiber, or rubber straps or any damage that results from normal wear and tear.
Each genuine Invicta timpiece purchased from mediatwinkle.com is in its original and tested condition and should only be serviced by qualified professionals at the place of purchase or at the Invicta Service Center in accordance with the terms of the Invicta Warranties.

Invicta Service Center
1 Invicta Way (3069 Taft St.)
Hollywood Florida, 33021
U.S.A
1-800-327-7682

Media Twinkle Watches
P.O.Box 70243

Rosedale MD. 21237
U.S.A

1-443-525-6147